Manual

Prerequisites and installing

Overview of splicing analysis

Getting annotation together

Quantifying junctions
Generating a curated cross-sample junction set
Comparing junctions

Quantifying events

Comparing events

Sample code for complete analysis

Simulations
Building models
Simulating transcripts

Utilities and extras
quickjunc
annotate_junctions
Notes on junction ids

---

Prerequisites and installing

Prerequisites

The ENTHOUGHT python distribution (http://enthought.com/products/epd.php) is recommended, if you have troubles getting numpy and scipy installed together.

Spanki requires the following python packages (Python will attempt to install them for you):
pyfasta
pysam
numpy
Biopython
scikits.statsmodels
fisher

Programs required for all functions:
samtools http://samtools.sourceforge.net/
Cufflinks (Spanki uses the gtf_to_sam utility to create a sam representation of a gtf reference) http://cufflinks.cbcb.umd.edu Required for splicing analysis:
AStalavista (or a precomputed splicing event file) http://genome.crg.es/astalavista/ (Download the standalone version, versions > 3.0 are supported)
Installing
Clone the repository for most recent changes:
git clone https://github.com/dsturg/Spanki.git
Checkout the branch for the most recent stable release, eg:
git checkout release-0.4.3
Or download the most recent stable release.


Install using the python setup script:
sudo python setup.py install

A test data set is available to make sure it is working properly: http://www.cbcb.umd.edu/software/spanki/testdata.tar.gz

Overview of splicing analysis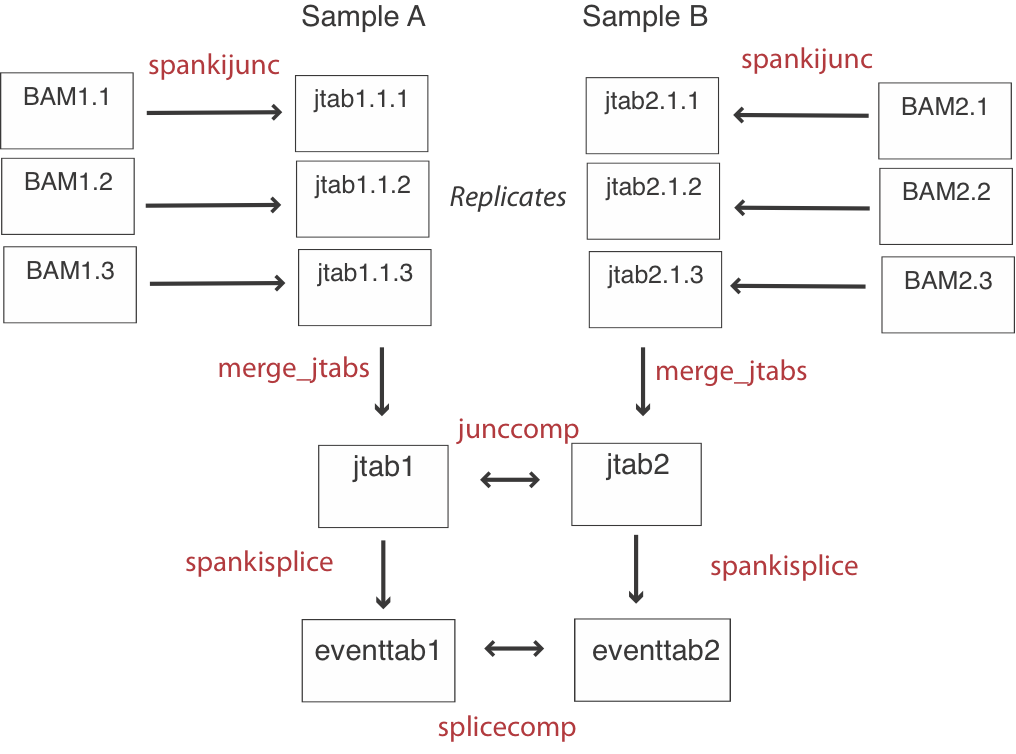 The basic flow of an analysis involves quantifying junctions for each replicate, and then merging the junction results (jtabs) by sample. Then events are quantified using these pooled junction results, and inferences are made by comparing at the junction level and the event level (See flowchart above).
Getting annotation together
Transcript models
Spanki requires an annotation in GTF format for most functions. The annotations from Ensembl are compatible. A slightly altered version of the Drosophila Ensembl annotation is available here: Drosophila Ensembl release 67 (edited)
Splicing definitions
Spanki uses splicing definitions generated from the standalone version of AStalavista (Michael Sammeth). http://genome.crg.es/astalavista/
Spanki is designed to use pairwise defined events, and is inclusive of alternative first and last exons. To get events defined this way, run AStalavista (versions < 3.0) like this:

  ./bin/astalavista.sh -c asta -k 2 -i ~/data/annotation/dmel_BDGP5.39.67_ed.gtf -o dmel_BDGP5.39.67_ed.events  +ext ;

The precomputed splicing events generated as above for Drosophila are here: dmel_BDGP5.39.67_ed.events

More recent versions of the AStalavista software are available here: http://sammeth.net/confluence/display/ASTA/Home. A page describing the new version is here. To define events using the newer version (v 3.2), run it like this:

  ./bin/astalavista -t asta -i dmel_BDGP5.70_ed.gtf -e [ASE,ASI] ;

The output of either AStalavista version is compatible with Spanki.
---
Junction alignment evaluation
Spanki takes an alignment file in BAM format as input and calculates a variety of confidence metrics about spliced alignments. The BAM file can be from any aligner, but has only been tested on BAM files produced by Tophat (Trapnell et. al, http://tophat.cbcb.umd.edu)

Usage:
spankijunc -i alignments.bam -g genemodels.gtf -f genome.fa [Options]
| | |
| --- | --- |
| Options: | |
| -i <string> | input alignments (required) |
| -o <string> | output directory [default: junctions_out] |
| -g <string> | reference gtf (required) |
| -f <string> | reference fasta (required) |
| -m <string> | analysis mode (see below): all, eval, quant [Default: all] |
| -filter <string> | T,F [Default: F (report all alignments)] |
| -r <int> | Size to examine for repeats (number of bases, default=10) |
| -ohang <int> | Overhang applied to junction filtering and intron retention analysis (number of bases, default=8) |
Analysis modes:
Spanki offers three bundles of analyses to perform. The "quant" mode performs quantitation only, and the "eval" mode generates more quality criteria to help evaluate the validity of the junction. The "all" default mode performs all available analyses. Th

Fields reported:

unfilt_cov:	Junction coverage including small anchors
cov:		Junction coverage where minimum anchor size is >= 8
normcov:	Coverage normalized by sequencing depth (divided by million mapped reads)
annostatus:	A code for the annotation status of the join
	* an = annotated
	* un.ad = unannotated join, annotated donor
	* un.aa = unannotated join, annotated acceptor
	* un.ad.ad = unannotated join of annotated donor and acceptor
geneassignL:	Gene assignment of "Left" edge
geneassignR:	Gene assignment of "Right" edge
geneassign:	Gene assignment of entire join
gmcode:	A code for the gene model where this join resides.  Code is "num transcripts.num introns.num starts"
 eg:      3t.21i.3s  A gene with 3 transcripts, 21 introns, and 3 start sites
regcode:  A code for the type of regulation annotated in the gene model
	* ap = alternative promoters
	* as = alternative splicing
	* asap = alternative promoters and splicing
	* con = constitutive, multi-exon
	* se = single exon
offsets:	Number of unique starting positions for junction alignments
entropy:	Entropy calculation described in Graveley et al., 2011 
hamming3:	Edit distance between the 5-prime intron sequence and the 3-prime exon anchor
hamming5:	Edit distance between the 3-prime intron sequence and the 5-prime exon anchor
dinucleotide:	Donor and acceptor motifs (eg "GT..AG")
MAXmmes:	Maximum of the minimum match on either side for all alignments to this junction (Wang L., et al., 2010)
MAXminanc:	Maximum of the minimum anchor sizes or all alignements to this junction.
lirt:		Intron read-through on the "Left" side
rirt:		Intron read-through on the "Right" side
irt:		Total intron read-through
datrans:	Donor to acceptor transition probability
dncov:		Coverage for all joins connected to this donor
ancov:		Coverage for all joins connected to this acceptor

Filtering:
By default, all junctions are reported, along with criteria for filtering them. This is the preferred approach, so you can apply custom criteria for flitering. You may also turn on automatic filtering to remove junctions that have these characteristics:
Have intron size > 50kb
Have non-canonical donor/acceptors
Have intron size < 42
Have ambiguous gene assignment
Merging junction tables
The "merge_jtabs" function pools results together for more than one replicate. Output is written to standard out:
Usage:

    merge_jtabs rep1/juncs.all,rep2/juncs.all,rep3/juncs.all > sample1_repsmerged.juncs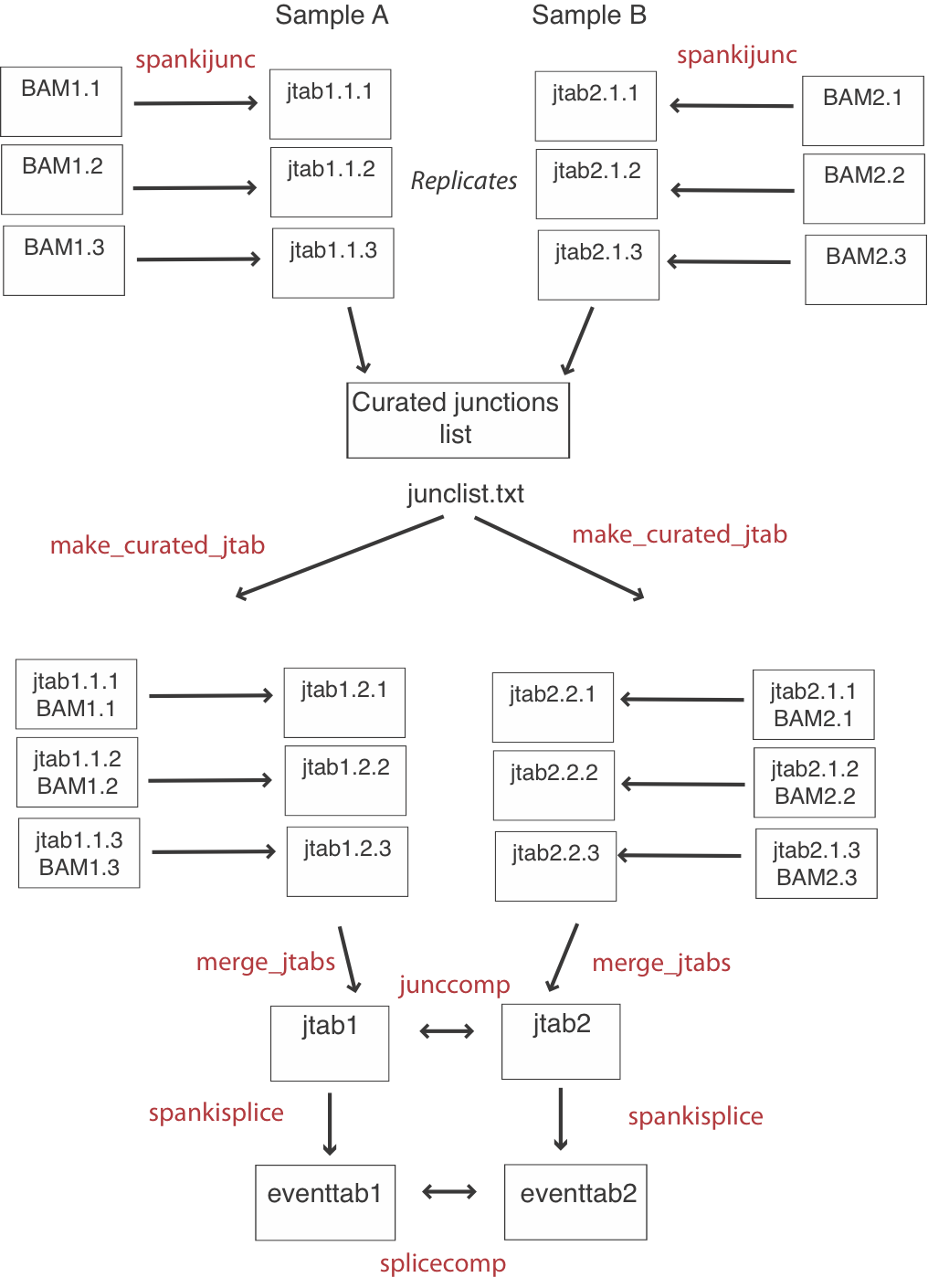 Generating a curated cross-sample junction set
If you are only interested in annotated splicing events, this step is optional. For a detailed junction-level comparison, it is better to do all junction quantification first, then make a list of curated junctions detected in any sample. Then, you can run a cleanup script on each replicate, to calculate intron read-through and donor coverage for junctions that were NOT detected. This will give you symmetrical junction tables with results for the same number of junctions for each replicate (See flow chart above). After making a list of curated junctions, get additional data from each replicate lke this:
Usage:
make_curated_jtab -i alignments.bam -jlist oklist.txt -jtab juncs.tab
| | |
| --- | --- |
| Options: | |
| -o <string> | output directory [default: curated_juncs] |
| -i <string> | input alignments (required) |
| -jlist <string> | list of curated junctions |
| -jtab <string> | first pass junction table for this BAM |